Some facts are everlasting for consumers all over the world. Everybody likes a good deal. Nobody wants to pay more than they must for a product or a service. And we all expect to get our money's worth when buying something at a particular price point.
As consumers, price and quality are the two greatest drivers of our purchasing decisions, but as Caliber's recent report on the FMCG and Retail industry shows, other parameters play significant roles as well when we decide what to buy and from whom.
It is not just about cheap or good. Retail and FMCG brands must go beyond competing on price and quality to build a solid corporate reputation in the age of the conscious consumer.
The dawn of the conscious consumer
Like many other industries, FMCG and Retail face the advent of the more conscious consumer. Consumers are in these years evolving from being quantity consumers (think fast fashion) to prioritizing products with a focus on sustainability, environment, and health.
In 2022, perhaps accelerated by the impact of COVID-19, the global energy crisis, and rising inflation, we see these consumer patterns accentuated.
Percentage of respondents stating that they are very concerned about their future financial situation
Q: "To which degree are you concerned about your future financial situation?"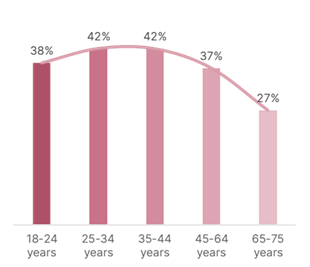 Our recent report on the FMCG and Retail industries shows, that while a significant percentage of people are very concerned about their future financial situation, consumer expectations do not waver.
Understandably, consumers still expect quality and affordability, however, expectations for companies to go beyond these aspects and focus on areas like climate, health, and good corporate citizenship still carry importance. This shows the strength and resilience of a new type of conscious consumer.
This new type of consumer is driven by the core values that they identify with and thus expect that the companies they buy things from delivering on those expectations as well.

Generation Z is driving the change
The rise of the conscious consumer is particularly apparent with Generation Z – in Caliber's survey defined as those aged 18-24. Retail and FMCG brands are on average rated higher among Gen Z compared to older age segments – however, with great reputation comes great expectations (or how that saying goes).
Young people really trust and like producers and sellers of consumer goods. Historically, this has also been the case, as these industries play a big part in how young people shape their identity through product and brand association. Nevertheless, associations today seem to be increasingly focused on corporate values aligning with Gen Z's own beliefs.
Research done by advisory firm Gen Z Planet explains that young people are much more motivated by the expressed values of companies i.e., walking the talk on making a real positive impact on the planet.
Our recent report comes to the same conclusion. As the graph below shows, Gen Z's purchasing decisions are like all other generations firstly decided by price and quality. But this is where the relative similarities stop. Gen Z (and to a degree young millennials) are much more driven by considerations for the environment, sustainability, and overall credibility of the company behind a product than is the case for Gen X and Baby Boomers i.e., those aged 45 and above.
Drivers of purchasing decisions
Q: "To which degree are you concerned about your future financial situation?"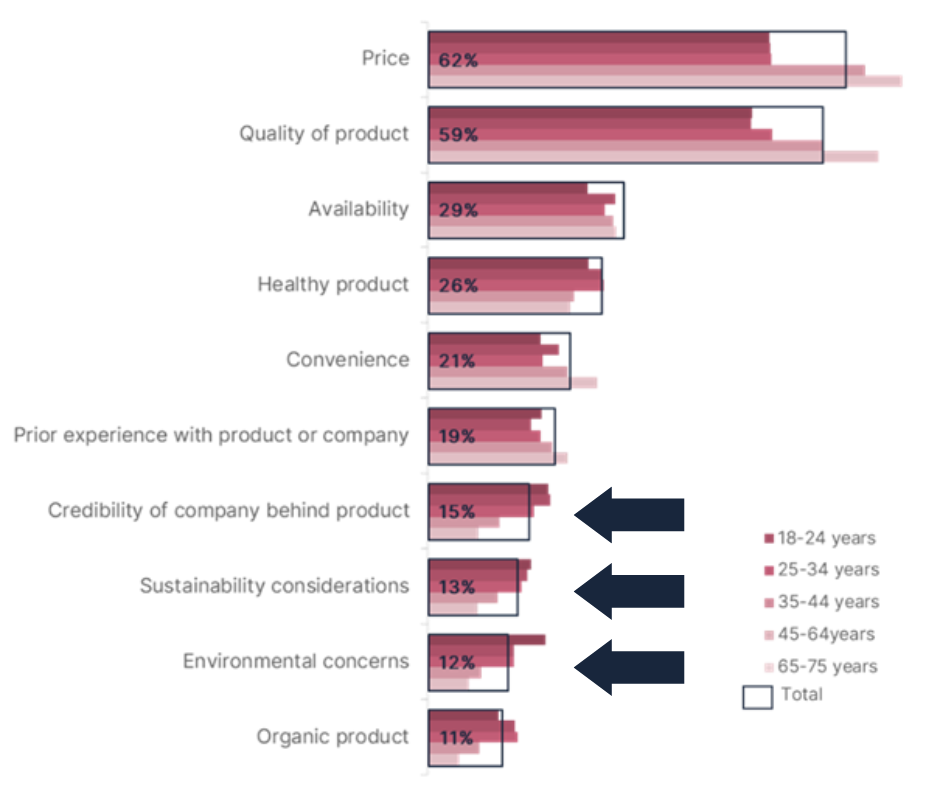 The overall take-away is that Gen Z (and to some degree young millennials) are a different and more complex type of consumer. Companies that choose to solely focus on competing on price and quality will still have some success, and more so with the older generations.
However, the movement of the conscious consumer is propagating and looks to be creating a wave as there appears to be a trickle-down effect on the next age group of millennials and how they state their purchasing decisions.
Gen Z is bringing on a new consumer paradigm and further extending the expectations for Retail and FMCG Brands. Gen Z is trendsetting and has great power in influencing older generations to change their purchasing decisions and consumption patterns to become more 'conscious'.
Companies will need to pay special attention to what young people expect from them. They are already influencing the rest of us to change too in how we perceive companies in these industries.
So, what should Retail and FMCG brands do to earn the trust of the conscious consumer?
Our recent report shows that on average 40% of respondents mention reducing product price as a key issue for Retail and FMCG brands to address. In times of inflationary pressure on consumer goods, this naturally makes good sense. For all age groups, reducing carbon footprint and developing more environmentally friendly products come as the second most important issue for the industry to act on.
Most important issues for companies in Retail and FMCG to address
Q: "What are the most important issues for retailers and producers of consumer goods to address?"

However, while affordability and environmental concern rank high for all, Gen Z and Millennials have higher-than-average expectations for the industry to address issues related to product innovation, diversity and inclusion, and corporate activism. It is clearly on the more complex value-based matters that Gen Z and Millennials are more demanding of companies to take a proactive stance.
But this shouldn't be reduced to young idealism. Conscious and more demanding consumerism is gaining traction, recently also expressed in our report on The reputational impact of corporate inaction on the Ukraine-Russia war.
Here, we explained that companies taking swift and clear action to pull operations out of Russia were rewarded reputationally, while those hesitating to do so due to business interests suffered significant declines in public perceptions.
This example shows the importance of Retail and FMCG brands in having a clearly embedded stance in terms of corporate values. Being able to articulate corporate values and act on them even in times of financial crisis matters greatly to public perception and will perhaps increasingly do so as the younger generations grow older.
Some companies are on the right path
In our recent report, Natura and Dm-drogerie markt stand as great examples of companies delivering on this new consumer paradigm and being rewarded for it in terms of positive public perceptions.
Natura, a Brazilian beauty care company, delivers on its company tagline, which reads "when you care, you create beauty". Natura's mission is to care for people and the planet, not only in terms of their products but also through supporting nature conservation and social and cultural initiatives fostering Brazilian culture.
Dm-drogerie markt is a German drugstore retailer that place high importance on the environment and social sustainability by only selling products that are good for consumers and the environment, taking the initiative to reduce excess packaging materials, designing recycling and nature conservation programs, doing political lobbying on nature conservation and even use only renewable energy sources in the retail locations.
Common for these companies is that they enjoy a very high level of trust and affinity in the public. Not only because they offer good products at a reasonable price, but because they show their customers and the world that being a responsible and caring business is an active choice stemming from authentic corporate values that align with the conscious consumer.
To earn the trust and the purchasing decision of consumers now and in the future, companies must align with these expectations.
For more insights, download our full report!