A new year brings new hope, and while spring is somewhat delayed in Denmark this year, there are a few companies that managed to melt the ice of public skepticism and entered 2018 with strong growth in reputation.
As we do every quarter, we looked at the public perceptions of the most prominent 100 companies in Denmark, observed throughout the last three months – and the results are interesting and, in some cases, surprising.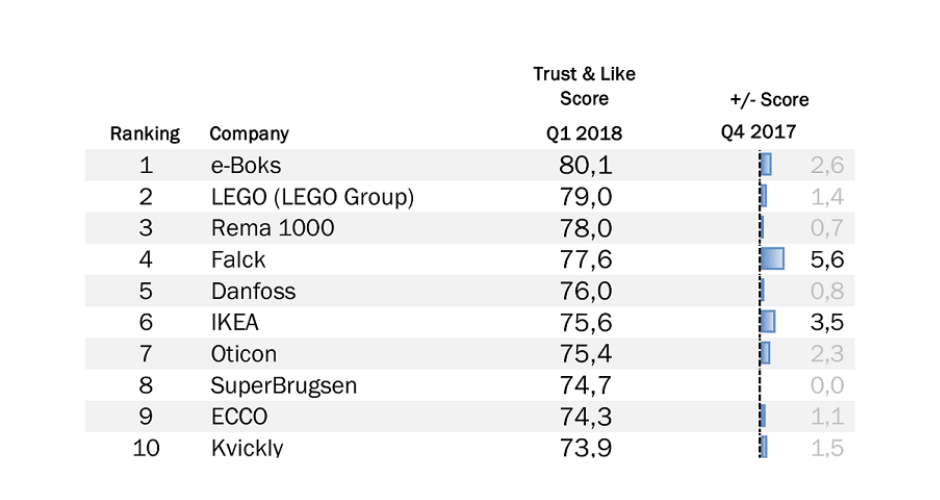 Denmark's Top 100 Q1 Ranking shows a surprising shift in the corporate reputation landscape
The top of the list already signals some noticeable changes. While few are surprised about seeing e-Boks, LEGO, and Rema 1000 on top, the progress made by Falck is difficult to ignore.
It looks like the layoffs announced during the first quarter have not (yet?) had an impact on the company's brand and reputation, allowing it to become the 4th most trusted & liked company in Denmark – an impressive jump of 13 positions from Q4 2017.
In the technology space, there have also been some dramatic changes: Apple's approach to data privacy is clearly winning public trust as it gains nearly 10 points and moves up an overwhelming 36 positions in the first quarterly ranking.
This is contrasted with Facebook, which maintains its reputational free-fall and enters the bottom 10 in our list for the first time – at #95. This is a good example of a sector-related issue that is handled differently by two players, with opposite effects on their reputations.
Danske Bank stuns with a remarkable turnaround
Another big winner in the first quarter is Danske Bank, which, for the first time in the history of our ranking, has made a real jump (of more than 8 points to be exact) and left the bottom 10 of the ranking, which it has occupied through the last couple of years.
The recent money-laundering scandal in the bank's Estonian branch seems to be "yesterday's news" for the public, perhaps due to the fact that other large banks have already experienced this type of media storm in the past few years.
Interestingly, Danske Bank no longer appears to be perceived as "one of the worst offenders" (this role is now claimed by Nordea, whose Trust & Like Score kept deteriorating this quarter and is now ranked #96).
Q1 shakeup in Denmark's Top 100 reputation rankings
In January we published our 2017 summary and mentioned some interesting movements throughout the year – for example, the reputational advantage that TV2 is gaining over DR and the rise of DSB after many years in the doldrums.
These trends continued in Q1 with TV2 extending its lead over DR from 18 to 25 positions and DSB continuing its Trust & Like Score improvement. E-Boks has also continued its gradual improvement and has now conquered the most respectable 1st place which LEGO has occupied for some time.
Other 2017 winners, however, have fared very differently in the first quarter – for example, Georg Jensen and Grundfos, who both fell out of the top 10.
2018 is indeed off to an interesting start, and we at Caliber will keep monitoring the development in public perceptions of prominent companies in Denmark and elsewhere to bring you the best and the latest in corporate brand and reputation news.
You may also be interested in:
Q2 2018 Results: Denmark Top 100
Q3 2018 Results: Denmark Top 100