At Caliber, we believe that companies – like people – need to possess a strong character in order to be liked and trusted by those around them. And while having character is often associated with being unique and memorable, a strong character also means having integrity.
People with strong character benefit from the resulting trust and affection by having tighter and wider networks of friends and allies. Similarly, companies with a strong character win customers, ambassadors, and greater loyalty from important stakeholders such as employees, investors, and partners.
Since we believe a strong character is reflected by being trusted and liked, we measure a company's perceived character by quantifying the strength of these two emotions.
In Denmark, we measure that on a regular basis through our syndicated research, which covers the country's most prominent companies, as measured by their turnover, number of employees, familiarity among the general public, market share, and other similar criteria.
Why do we do that? Because it allows us and our clients to better understand what drives people's perceptions, how fast, how often, and for how long.
This means that we all get smarter and better at learning from the past and present when planning the future and making concrete decisions.
Q1 2017 results
We recently published this year's first quarterly ranking of 100 companies based on the scores generated in January, February, and March 2017. These were the top 10 most liked and trusted companies in Denmark.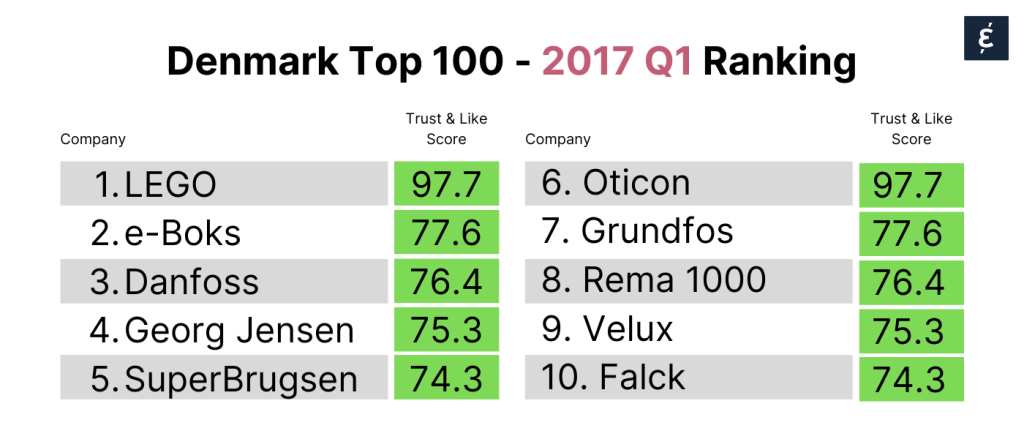 While some measure stakeholder perceptions on an annual or bi-annual basis, we choose to do so daily and review scores week by week, month by month, and quarter by quarter.
For example, here are a few things we learned when reviewing the changes in scores throughout the first quarter of 2017.
The sector matters – but not always
Companies in the top 10 represent various industries, from toy manufacturing, food retail, and manufacturing of pumps and electrical motors to jewelry, emergency services, and hearing aids.
With that said, the sector still matters. In Q1, Banking, Insurance, Energy, Telecom, and Transportation/Logistics seem to be the sectors that the Danish public "loves to hate", with companies in these sectors ranking low on our list.
In some cases, it may be due to a monopolistic heritage; in others perhaps the perceived lack of transparency or understanding by the public. Interestingly, though, there seem to be some notable exceptions. GLS is one of them.
GLS is among the biggest climbers in trust & affection score this quarter, widening the gap between its score and that of the troubled PostNord – showing that a logistics company can still gain significant goodwill from the public by offering easily accessible, competitively priced, and good quality services.
Can Facebook and Amazon be trusted?
The GAFA companies (Google, Apple, Facebook, Amazon) – while admired globally for their innovation dominance – have for a while now been far from the Danes' favorites.
In Q1 they all score in the weak or average tiers, with Facebook being the weakest, followed by Apple (traditionally a favorite, also in Denmark, but no longer trusted or liked as before).
However, Facebook's trust & affection score rose more than any other company in Q1, suggesting its moves to tackle fake news are winning public endorsement and may start mending the long-held negative perceptions towards it.
Another climber is Amazon, whose score has risen steadily over the last six months to rival that of major retailers like Magasin du Nord, H&M, and Jysk.
Given the fall or stagnation during the same period of Bilka, Føtex, and Netto, it seems like Dansk Supermarked's attempt to "unite the Danish retailers in the fight against Amazon" may face some challenges as far as public sentiment is concerned.
A. P. Moller-Maersk is still going strong despite poor financial performance
One of the biggest financial losses in Danish corporate history didn't seem to bother the public much – A.P. Møller-Mærsk's trust & affection score remained largely unchanged throughout the first quarter of 2017 with a very modest (around 1-point) decline in January when news first came out, and no change in February upon the official announcement.
While the public understands the company is facing commercial challenges, the heritage seems strong enough to prevent negative news from damaging the well-established positive perceptions of this "Danish darling". This is a clear example of how a strong corporate character acts as a buffer from the impact of negative news on public perceptions.
Tough times for DR
While DR has traditionally enjoyed better perceptions than TV2 in the Danish market, the situation has flipped in the first quarter of 2017 with TV2 demonstrating one of the biggest rises and DR one of the biggest falls.
This could potentially be related to the tough few months DR has had, with stories about reporters flying horses to America at the taxpayer's expense, a radio program illegally "making a few bucks on the side" and abusing poor café owners, and the symphony orchestra fighting for its existence. The beneficiary is clearly TV2.
Q2 2017 results: changing fortunes in retail, telecoms, and more
Ever since the publication of Caliber's 2017 first-quarter Top 100 review in Finans, we have been repeatedly approached by companies, journalists, and other interested people with the same question: Why are some companies trusted and liked while others are not?
This simple question is unfortunately not straightforward to answer. Indeed, all companies are different and find themselves in unique situations – though some general principles seem to be applicable to all.
Such situations can be crisis-related (e.g., PostNord and DSB), being part of a specific industry (like Nordea and the GAFA companies), or being of local origin (as with Danfoss, Grundfos, and LEGO).
At the same time, there are often exceptions. So, what exactly do companies that succeed in gaining trust and affection have in common? 
This is the question we try to address in this 2017 Q2 review of Denmark's Top 100 companies.
Download the 2017 Denmark Top 100 Ranking
Denmark's Most Trusted & Liked Companies
The top 10 of the ranking looks very similar to Q1, with LEGO still leading the pack and "permanent members" such as Danfoss, Grundfos, and Oticon positioned not far behind. 
The biggest winner of the Q2 is, without doubt, the Norwegian food retailer Rema 1000 which has made a remarkable jump to become Denmark's second most trusted and liked company.
Rema 1000 (+3,2 points; +6 positions; ranked 2nd)
Much has already been written about Rema 1000 and its revolutionizing concept of offering high quality at affordable prices.
The focus on organic products that have been produced and shipped responsibly is attracting an ever-growing base of consumers across all social segments.
In Q2 2017 Rema 1000 continued to win market share in the Danish discount market, and several media are speculating whether Rema may soon take over Netto's historical market leader role.
The company has recently won price-check competitions in everything from organic food to over-the-counter medicine, has invested in initiatives such as hybrid-car transportation, and has continually demonstrated active involvement in the local community whenever a new Rema 1000 store opens.
Rema 1000 currently seems to be a good example of a company that knows its purpose and lives its values in everything it does, be it product selection, pricing, transportation, or community involvement.
More stories of interest emerge when looking at the biggest risers and fallers this quarter:
DSV (+3,4 points; +11 positions; ranked 49th)
One of the biggest risers this quarter other than Rema 1000 is the Danish transport and logistics company DSV.
Transport & Logistics tends to be one of the sectors towards which people generally have negative and skeptical views – like energy and financial services. 
In Q1, however, GLS showed that even a logistics company can win trust and be liked by the public. In Q2 DSV followed in its footsteps and moved significantly up the ranks.
DSV has been able to present solid financial indicators lately, much to the joy of its shareholders and the stock market. However, the general public has likely also reacted to some other important developments at the company: DSV has recently announced that it had entered a strategic cooperation with the Red Cross.
This means that the charity's heavy equipment can now be shipped at a lower cost and, more importantly, much faster than before. When circumstances are such that even a couple of hours' delay can mean life or death for thousands of people, this is no small achievement!
Additionally, DSV is currently testing hybrid trucks that are silent and less polluting, which could one day replace the large fleet of diesel vehicles, making an enormous difference to the environment and the people living next to motorways and warehouses.
DSV shows that a company can present solid financial figures while at the same time demonstrating consideration for the society in which it operates. This has been noticed by the Danish population whose trust and affection towards DSV are on the rise.
Telenor (-3,7 points; -7 positions; ranked 94th)
Something interesting is happening in the Danish telecommunication sector. Traditionally untrusted and unliked (it's the only sector in which all four companies tracked are consistently ranked in the bottom quintile of the top 100 list), the 2nd quarter results show the mirror image of the 1st quarter: while in Q1 Telenor was the highest-ranking telco in Denmark and 3 (Three) was the lowest-ranking one, now the picture is reversed.
Telenor has assumed the unfortunate position of the least trusted and liked telco operator in Denmark – and one of the lowest-ranking companies in Denmark in general at 94th out of 100 – after having become part of the Kontant TV show.
The program criticized terrible customer service and incorrect bills combined with aggressive behavior towards users who have not paid those incorrect bills.
In the best tradition of such TV shows, a couple of "poor and helpless" customers stepped forward to accuse Telenor of ruining their otherwise perfect lives.
Telenor reacted promptly by employing additional staff to its customer call center, dropping the registration of bad payers in RKI (the Danish credit rating database), and stepping up its positive visibility in the market by for example sponsoring an international marathon in Copenhagen.
The damage to its reputation, however, proved too severe to be undone by these measures – though the next quarter's results will show whether they helped the company recover with time.
The Telenor example shows that even a company with a relatively solid reputation (being the most trusted in an untrusted sector) can quickly lose its position by being seen as not living up to its promise or to people's expectations.
Treating your customers poorly is one of the greatest sins a company can commit when it comes to building character – and is often judged harshly in the court of public opinion.
Q3 2017 results: Unexpected winners and losers
While the Danish summer has been boring on the weather front – it has produced some interesting changes to the reputation of key companies in Q3.
At first sight, the top risers and fallers suggest that there haven't been any dramatic movements other than PostNord and Nets regaining some of the goodwill they had lost earlier this year.
However, when comparing the Top 10 companies of each quarter this year, some interesting new entrants pop up.
The most interesting "newcomer" in the Top 10 is undoubtedly Matas. The company has gained public trust and affection throughout 2017, which earned it a place in the Top 5 most reputable companies in Denmark in Q3. In fact, Matas made a remarkable climb of 15 positions since the Q1 publication earlier this year.
Another fast-climbing "gazelle" is the discounter Lidl. We have previously written about the impressive journey that Rema 1000 has been through to earn the place as one of the most trusted and liked companies in Denmark (currently #3 in the ranking).
It seems now that Lidl has been able to ride the wave of "conscientious discounters" becoming ever more popular, improving its trust & affection score by more than 6 points since Q1 2017 – which is more than any other company has achieved this year in Denmark.
On the other end of the table, we find the long-term leader, A.P. Moller-Maersk, losing 4 points of its Trust & Affection score from earlier in 2017 (only Facebook did worse by losing 7 points since Q1). 
APM's scores have remained remarkably stable since we first started our tracking in the summer of 2016, despite all the negative news surrounding the company, including its worst-ever financial results in 2016.
It seems, though, that the break-up of the company into two independent entities, which was announced in September (the score dropped by 5 points in that month alone!), was the straw that broke the Danish public's back – at least perception-wise.
Following the monthly development of the Top 100 ranking proves that there can be no status quo when it comes to public trust and affection. Even the most reputable companies, like A.P. Moller-Maersk and Novo Nordisk (and even LEGO as we found out in November), can suffer from bad publicity.
And those who have been regarded as underdogs for some time – like Lidl or GLS – have all the chances of making it to the top given the right actions.

Denmark Top 100 – full-year rating
A new year has started, and predictions abound – but it's also an opportunity to summarize the year gone by. 
As we have done over the last year and a half, we summarized the public perceptions of Denmark's 100 most prominent companies collected during the last quarter and also compiled the full 2017 data. The results, as always, are interesting.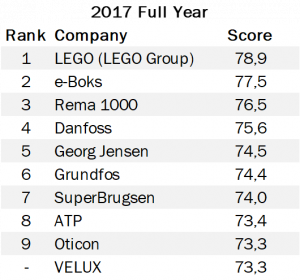 In comparison with 2016, many things have stayed the same: LEGO is still first, and e-Boks is still second; iconic Danish companies like Danfoss, Grundfos, and Oticon are still some of the most trusted and liked in the country; and players in troubled sectors like financial services and telecommunication are still mostly ranked at the bottom of the list. 
But when we look more closely at the quarterly scores of each company, some surprising movements and patterns are revealed.
Video killed the radio stars
Clearly, DR is no longer just radio and TV2 is more than just television, but the reputational cat-and-mouse game between the two state-owned Danish broadcasters has taken a surprising turn.
DR, which was once the unquestionable pride and joy of most Danes, has taken a serious beating to its reputation in 2017 – dropping by nearly 6 points. TV2, on the other hand, has improved by 1.4 points, putting it for the first time ahead of DR by a whopping 18 positions in the 2017 ranking.
This reversal of image was thought impossible until not long ago – will it continue in 2018? Much depends on the political debate over the unloved license fee in Denmark.
Another giant falls
If Novo Nordisk was our nominated "icon that has fallen from reputational grace" last year – this year it's Mærsk. The Danish shipping and energy giant had managed to maintain its reputation despite unprecedented financial losses in 2016, but as dramatic news kept coming in 2017 – its reputation could hold no longer.
The splitting of the company into two separate companies and the subsequent sale of its oil & gas activities to Total have resulted in a consistent drop in its trust & affection score in every quarter of 2017. 
In Q4 A.P. Møller – Mærsk was ranked 47th in the top 100 list – down from the 25th position in Q1. A fall from grace indeed.
What's in a name?
Quite a lot if you ask Ørsted – formerly known as DONG. The company changed its name in early November to signal the completion of its move from oil and gas to renewable energy. 
As far as public perceptions in Denmark go, this seems to have done the trick – the company's trust & affection score has been rising consistently since then, and it seems to be on track to move from the "low" reputation tier to the "average" one. 
It is still not in the upper half of the top 100 list, but as an energy company, it's well-perceived and has a positive trajectory.
Other movements
The above are just a few examples of the insights coming out of our daily tracking of prominent companies in Denmark.
Some other patterns we notice are the rise of foreign discount retailers like Lidl, Aldi, and Rema 1000 – who have all done extremely well reputation-wise in Denmark in 2017 – and the significant strengthening of DSB's reputation from Q1 to Q4 after many years of reputational troubles – possibly due to its decision to withdraw the much-maligned IC4 trains. You can read more stories about our top 100 ranking of 2017 in the Finans coverage (in Danish) or contact us for more information.
To sum up
Winning public trust and affection is a tricky thing – sometimes, chasing it will lead you in the opposite direction. As we often say, trust and affection are the outcomes of having a strong and lasting character. And character, in its simplest form, is about having a unique purpose and acting with integrity.
In even simpler terms, create or deliver something that people want in a way that is unique to you and does no harm. But demonstrating and staying true to character is a never-ending task, one that is not easy for a company to manage and enforce over time. Cases like Rema 1000 and DSV show the benefits of getting it right.
We will keep monitoring public perceptions and keep sharing with you the most interesting findings. Meanwhile, we wish everyone a successful 2018 in both reality and perception!
As we continue to work with companies to help them articulate and demonstrate a strong, authentic, and unique character – we will keep placing a premium on stakeholder perceptions: their nature and evolution bring invaluable insights to unlocking a company's unique value drivers and guiding concrete actions that ensure not only that the company stays true to its character, but that it also reaps the full benefits of that.
If you would like to learn more about the public trust and affection towards your company and better understand your position in the rankings feel free to contact us at [email protected].
ABOUT THE STUDY
Caliber believes companies that are driven by a unique purpose and act with integrity build a strong Corporate Character – which wins the trust and affection of their stakeholders and secures the company's long-term legitimacy and success.
The Corporate Character Index is therefore made out of 2 questions (to what extent do respondents like and trust a particular company) that are posed to a representative sample of the Danish population through online panels. Answers are given on a 1-7 scale by respondents who are sufficiently familiar with the rated company and are then rescaled to a 0-100 score.
The survey is conducted on a daily basis, and scores are calculated in real time. Every month, Caliber calculates cumulative monthly scores, and every quarter, it calculates quarterly scores that are the average of the three preceding monthly scores.
The 2017 scores herein are based on a total of approximately 20,000 respondents and more than 160,000 ratings.
The 100 companies were selected for inclusion in this survey based on their deemed prominence in the Danish market – using criteria such as turnover, employee base, public familiarity, market share, etc.
If you are interested in this topic, you might like the following:
Denmark Top 100: building and protecting reputation in tough times