The reputation and perceptions of Big Tech have changed a lot in the past year. Have a look at how things have shifted for the industry.
For decades, Silicon Valley darlings like Google, Apple, and Facebook have set the gold standard for tech sector success – not only in a financial sense but also as trailblazers for a new and promising digital age.
As a result, BigTech companies (Apple, Google, Microsoft, Amazon, and Facebook) earned themselves strong reputations, known for cutting-edge products with the ambitions of impacting people's lives for the better but recently the tides have started to turn.
Today nearly every major tech company is facing a series of challenges including questionable ethics resulting in harsher legislation on data privacy and data security, powerful CEOs with personal agendas, and not least a decline in profits resulting in the laying off of thousands of employees.
Perceptions generate emotions and emotions trigger certain behaviors, and by looking at how Big Tech's reputation has changed over time, it's clear that the sector has a rocky road ahead.
Big Tech's Corporate Reputation (Trust & Like)
By comparing this year's data with last year, it's apparent that the overall Trust & Like Score for BigTech has dropped. The most significant drops were recorded by Facebook and Amazon.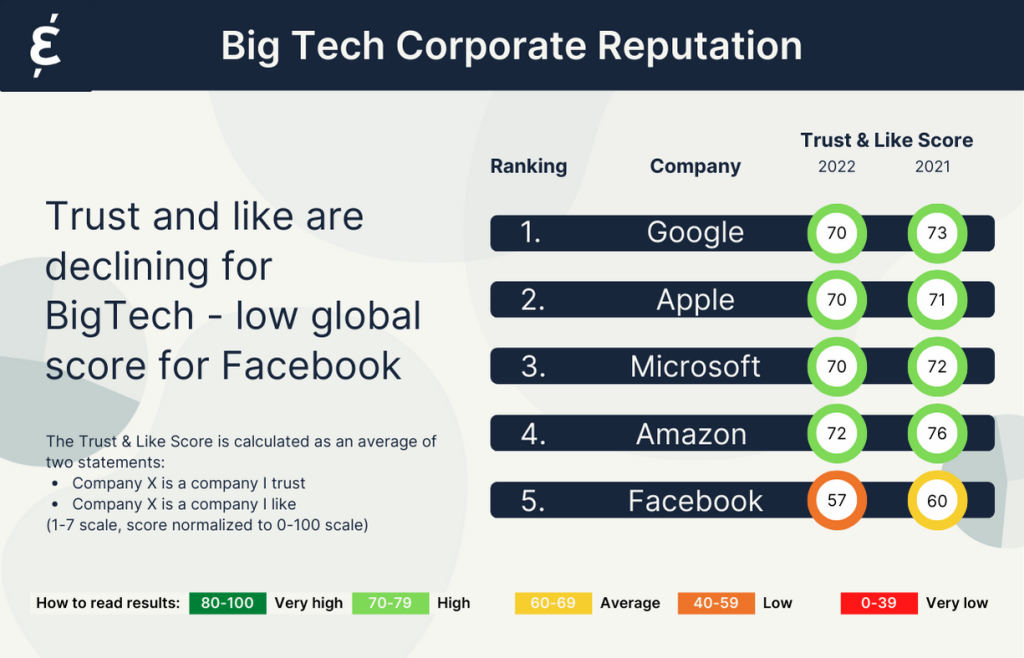 Despite the decline, Amazon is still relatively well-perceived among its stakeholders, but Facebook's reputation is rapidly declining. While Zuckerberg is betting it all on the future of Meta, Facebook is struggling with massive layoffs, data privacy scandals, and accusations of enabling social harm, with not many solutions to show for it in 2022.
Big Tech's Leadership
Leadership scores have dropped for all brands in the ranking, and again Facebook sits at the bottom of the list.
In BigTech, the personal brands of the companies CEO's carry a lot of weight. In the case of Meta and Facebook, many believe that it is Zuckerberg's lack of leadership or correct vision that is derailing both companies towards failure.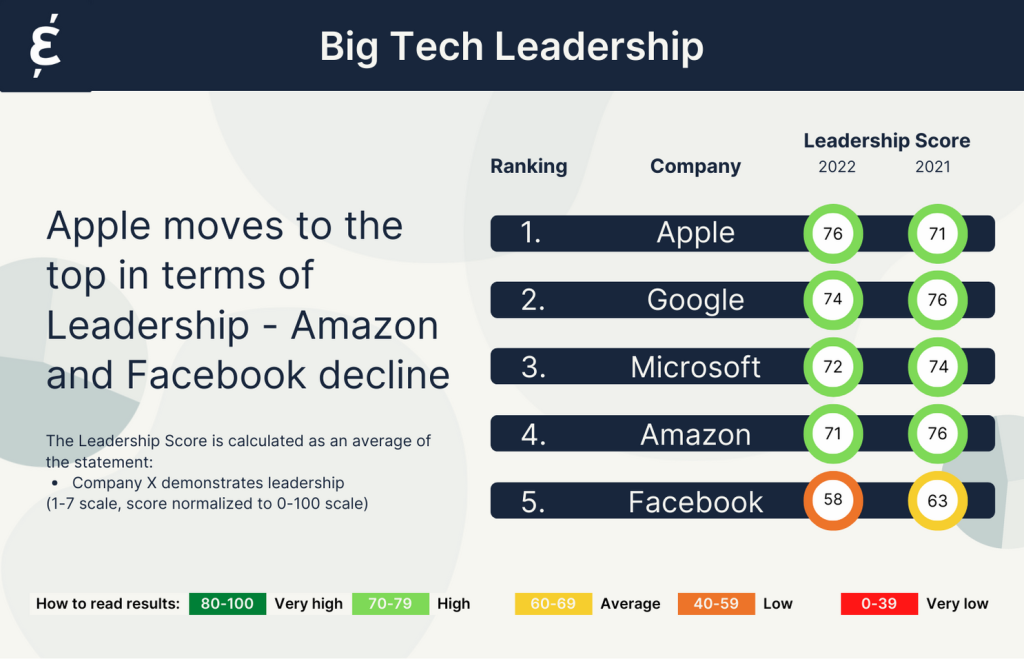 The perception of leadership attributed to BigTech companies is vital – it affects everything from future investments to being seen as an attractive employer. In Big Tech, the perception of the CEO/founder is often directly connected with the reputation of the company.
Big Tech's Integrity
Big Tech continues to have serious integrity issues. Since the revelations made by Edward Snowden in 2013, the industry has struggled to prove that they are ethical and responsible companies. Governments and legislative bodies around the world have in recent years toughened legislation on data privacy and data security making it harder for companies to make money off of selling people's data.
Today integrity still stands as the most challenging aspect of the public's perception of the industry with the public questioning that the sector is acting in the best interests of society as a whole.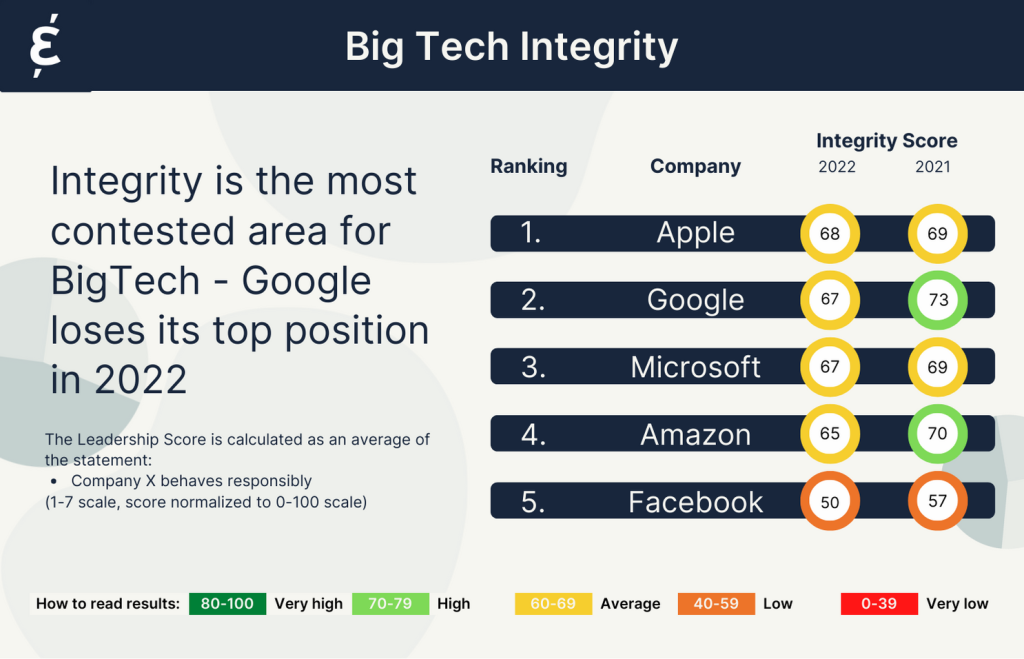 This year, Google recorded the most surprising drop. The brand came under fire for its diversity policies after it fired prominent AI ethicist Timnit Gebru two years ago following his claims that Google was developing a racial and politically biased AI. The company has been trying to improve its diversity and inclusion policies since then, but according to the public – not quick enough.
Employer Attractiveness
Amazon and Facebook have both experienced more than an 8% drop in attractiveness as employers, compared to 2021.
Facebook ranked 47th in the "Best Places to Work" rankings for 2022, a nose dive from 11th last year. Amazon, on the other hand, scores well when it comes to working in corporate offices, however, that's just a small proportion of their workforce compared to the 125,000 factory employers, who continue to struggle with low wages and harsh working conditions.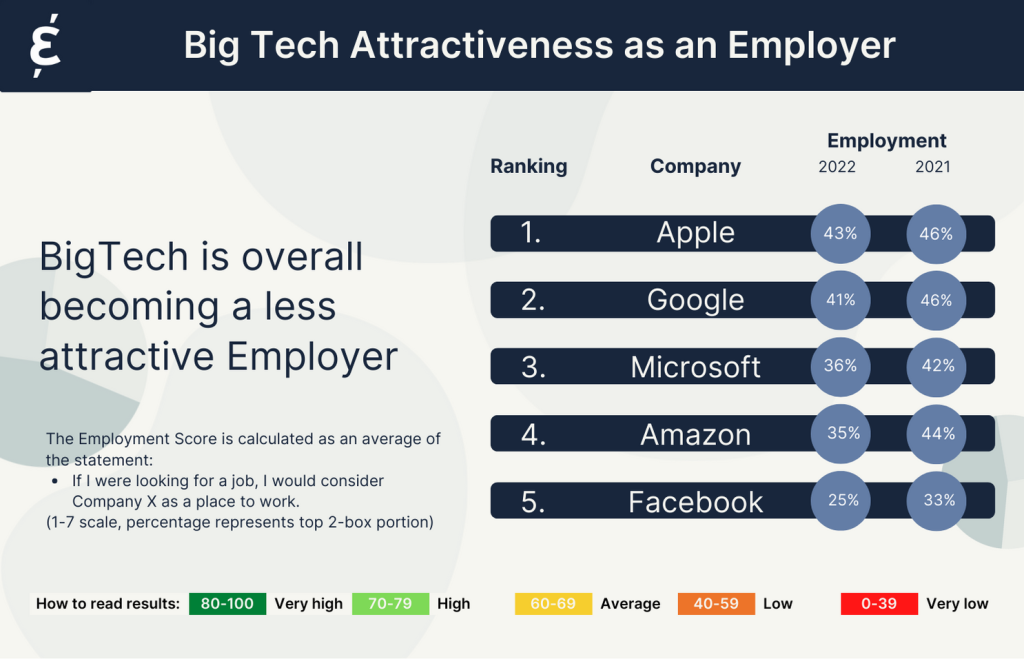 Although BigTech titans such as Zuckerberg and Bezos have historically been considered untouchable, the public and investors are now rethinking the value of the system, which is known to create permanent sovereigns who can get away with writing long apologies instead of being accountable to their stakeholders.
The chaos in the industry is the result of its rapid escalation to power, which has created a disconnect between Big Tech's leadership, average consumers, and rank-and-file workers.
Many people today are growing tired of the BigTech Monopoly, and maybe the future winners in tech are not going to be those who invent the next app or alternate universe.
Maybe it will be those who can prove to society that their product or service acts in their best interests, despite economic recessions, political turmoil, and global uncertainty.
If you enjoyed this article, you may also be interested in:
Are corporate reactions to the Ukraine war still impacting reputation?