As the first half of 2022 ends, we wanted to take the reputational stock of the DAX 40 and SMI 20 indices. Both were among those hit hardest by a downturn in public perceptions in the first quarter of the year, and both recovered in the second quarter.
This article looks at the development in perceptions for the indices in the past six months and highlights some of the companies that have seen their reputations impacted, which in certain instances can be related to the actions taken as a response to the war in Ukraine.

Download our report: The Reputational Impact of Corporate (In)action on the Ukraine-Russia war
Read our follow-up article: Are corporate reactions to the Ukraine war still impacting reputation?
Volatile reputation levels for DAX 40 companies in Germany
As we reported earlier this year in our special report on the Ukraine war, 41% of the German public said that they closely follow companies' actions as a response to the war in Ukraine.

This, coupled with a relatively high proportion of people in Germany (26%) stating that companies should engage in political activism, showed that Germans expected their companies to take a stand and assessed them accordingly. This may be one of the reasons that the average reputation levels of the DAX 40 companies in Germany have shown relatively high volatility in the first months of the war.

In Switzerland, we've seen similar movements in average Trust & Like Score (TLS) in the CH SMI 20 index since the war broke out. However, overall public perception there does not seem to be equally tied to corporate actions in response to the war in Ukraine.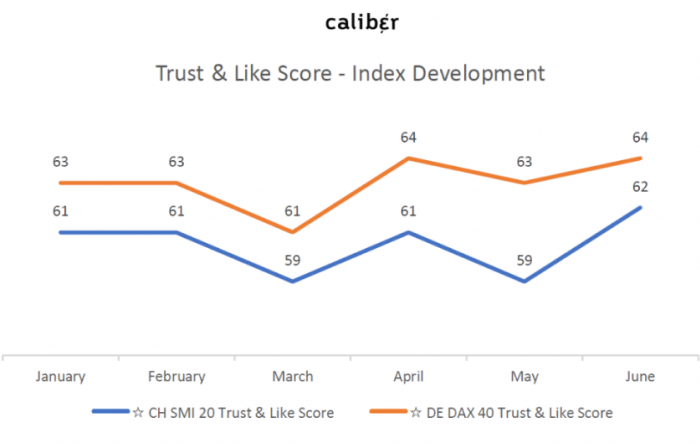 DAX 40 – Clear reputational impact of actions taken toward Russia
The DAX 40 ranking has shifted in the past six months, with changes explained to a large degree by corporate actions related to Russia's invasion of Ukraine.

Adidas, early to make a full exit from Russia, continues to be the best-perceived company in the DAX 40. Henkel, another company to make an early full exit, jumps six places in the ranking to enter the top 10.
On the other hand, Covestro and Continental – two companies that continue to have a presence in Russia – drop out of the top 10.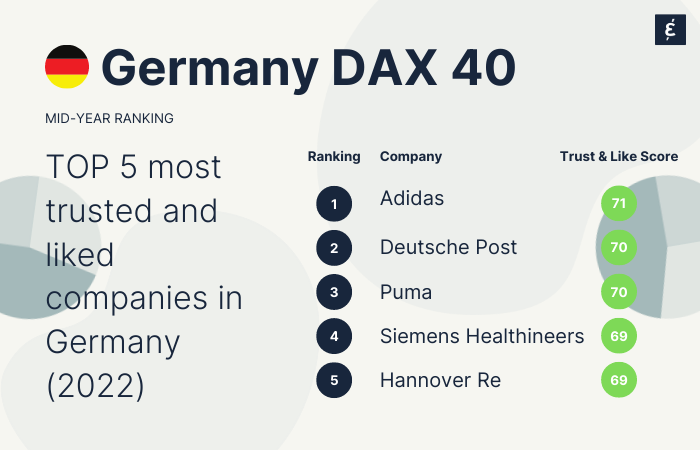 The way companies have reacted to Russia's invasion of Ukraine matters greatly to their reputation. For example, Puma's reputation declined in March, and they did not follow Adidas' lead to make an early exit.
Volkswagen Group also declined in March, possibly due to a lack of clarity around their exit in the early days, as the Skoda brand continued its Russian operations. Both Puma and Volkswagen recovered in April as exit plans were confirmed and clarified to the public.
Companies remaining in Russia have suffered substantially in public perceptions
Chemical company Covestro and tire manufacturer Continental are still present in the Russian market today. Covestro has been quiet on its position in Russia and has only communicated concerns regarding plans for a gas embargo on Russia.
Continental communicated an exit in March but started their Russian-based production back up again in April. The two companies declined in Trust & Like Score in Q2 by 4 and 6 points respectively, possibly as a result of these issues.
Overall, companies in the DAX 40 that are still operating in Russia or which are still assessing the situation are on average down on TLS by 2,6 points in 2022, while those acting to suspend all activities or fully exit Russia are only down by 0,8 points on average.
SMI20 – Trust and affinity less connected to the war in Ukraine
The Swiss index is not equally affected by corporate reactions to the war in Ukraine. While there have been fluctuations of the index in the period around the outbreak of the war, the changes seem less uniform, as only a few cases can be deemed as quick reactions or as clearly communicated intent related to corporate activities in Russia.

Companies like Sika and SGS, who maintain their presence in Russia, both saw a negative impact on public perceptions in March but quickly bounced back in April even though they had not communicated any new information to the public.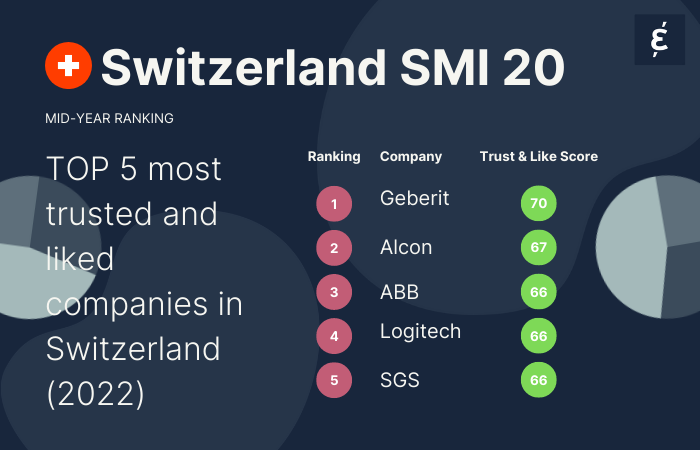 After Nestlé was publicly criticized by Ukrainian President Volodymyr Zelenskyy for continuing to do business in Russia, the company decided to limit sales there to essential foods. The reputation had plummeted in March, down by 14 points, but has since then slowly recovered.

Overall, the SMI 20 is down more than 2.5 points from its 2021 average. This seems to be less connected to the war in Ukraine and is probably more related to the negative economic effects of the Russia-Ukraine war – which are felt in Switzerland and everywhere else.
Unclear direction of public sentiment toward businesses
While general reputation levels are so far lower in 2022 than they were in 2021 in both Germany and Switzerland, both indices show an upward trend in June as the first half of the year ends.

At the same time, the global economic outlook seems to be getting darker as the effects of the war become clearer and as factors such as inflation, interest rates, and energy prices continue to squeeze the finances of companies and individuals around the world.

It remains to be seen how all this will play out in terms of public sentiment towards large companies in the DACH region and globally.