Adidas tops the DAX 30 list of most trusted and liked companies in Germany. VW and Deutsche Bank are still at the bottom, while Daimler's reputation drops dramatically.
If asked to name some German companies, which names would people mention?
Many would probably start with car manufacturers like BMW, Mercedes, and Volkswagen, possibly followed by Europe's largest airline Lufthansa.
Those more aware of German businesses may mention the medical giant Bayer and perhaps Deutsche Bank. Others may recall Adidas (yes, they are German!), Siemens, the chemical giant BASF (perhaps known more for its cassette tapes – for those of us who remember the 80s), and Deutsche Telekom.
These companies are not only well-known German businesses but are also associated by many with quality, innovation, financial success, and the proud slogan "Made in Germany".
2018 ranking of favorite DAX 30 companies in Germany
To our surprise, however, when we first compiled our 2018 ranking of Germany's favorite DAX 30 companies, we didn't find these usual suspects at the top.
The list starts off fairly predictably with Adidas being at the very top and Siemens not far behind. Also in the top 5, we find tire manufacturer Continental as well as Deutsche Lufthansa.
The only unexpected company here is Fresenius Medical Care – which few people outside Germany would probably know.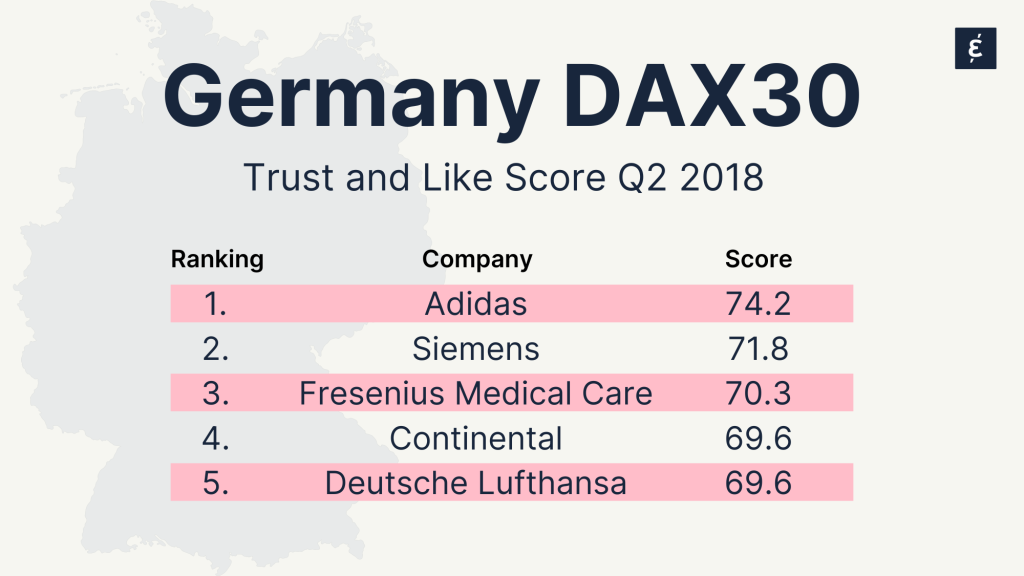 From then on things get more surprising. BMW is "only" number 7, while one has to look far down the ranks to find Daimler at #16 (with a 12% drop in score in the last two weeks of May alone).
Perhaps this is easy to explain, as both companies suffered from the rub-off effect and the recent resurgence of Dieselgate. By the way, VW itself is not surprisingly the third last company on the list.
Another unexpected result is seeing companies from sectors that are typically disliked, like chemicals and pharmaceutical, ranked relatively high: while BASF is ranked midway down the list at #17, Linde is ranked a strong #6, and Bayer is positioned a fairly low 22nd, Merck is ten positions above at #12.
And just to show that success does not always lead to a positive reputation – Deutsche Börse is ranked #20, despite the strong showing of many of its stock indexes over the last few years.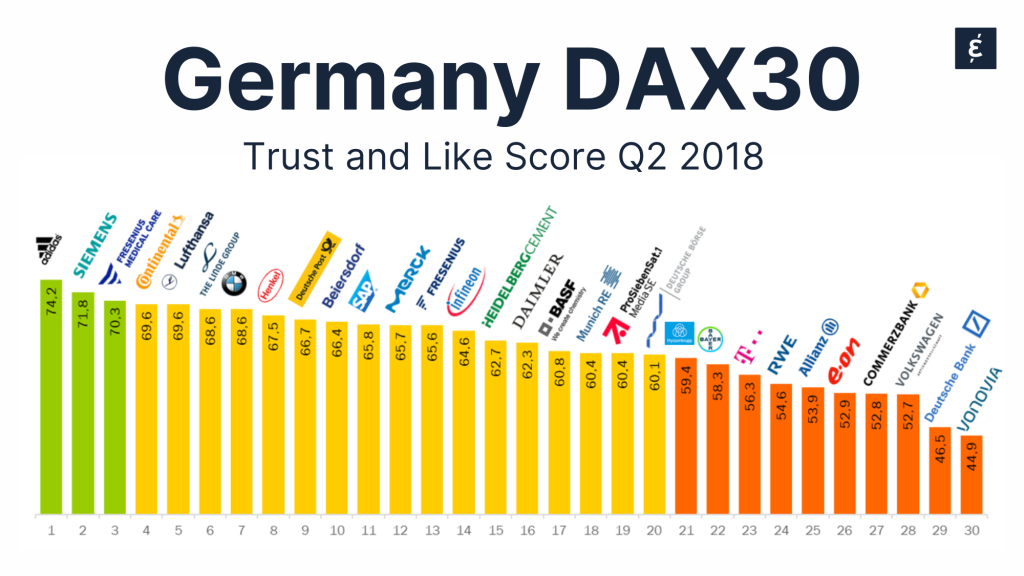 Unpacking the methodology behind the DAX 30 ranking
To find the explanation for some of these unpredictable scores, we have to look into where this ranking is based.
At Caliber we survey a representative sample of the general population aged 18-75 on a daily basis – in Germany as well as in many other countries. We ask them two simple questions: whether they trust and like the companies they are evaluating.
So, this ranking is not based on financial indicators or market share, nor is it a proxy of brand awareness or local presence. These scores are a simple and straightforward indicator of whether ordinary people trust and like the companies they hear about every day.
To explain these emotions we also look at rational perceptions of the same companies. Here, it's quickly apparent that "Made in Germany" is still pretty much alive with almost all companies scoring very well on perceived product and service offerings, innovation, and leadership.
Is "Made in Germany" just about quality?
Once we look at softer values, such as integrity, authenticity, and inspiration – the German public's perceptions of the DAX30 companies are mixed at best.
Even those on top, such as Adidas or Siemens, struggle to convince the public that they behave ethically and that they keep their promises.
Another problem many top companies have in Germany is differentiation – or lack thereof. The public does not seem to perceive these companies as standing apart from their competitors.
The biggest challenge, however, that all DAX30 companies have in common is the fact that people cannot relate to what they stand for. The Relevance scores are significantly lower than all other perception scores for nearly all these companies, indicating a shared problem of unclear or irrelevant purpose at the core of these organizations.
While it's good to see that some of the iconic German companies are still trusted and liked by the German public, it's worrying that perceptions of integrity and relevance are so low.
"Made in Germany" still seems to be a signal of product quality and innovation – but is it not time for a "Made by Germany" quality mark that also stands for something more?
The data was collected through Caliber's Real-Time Tracker, part of Caliber's brand & reputation analytics platform, in May 2018. For more details about this study, please contact us.
Download the DAX30 ranking for 2018
If you enjoyed reading this, you may also like the following: